Hablamos Español
On-site Training
GI Bill
CALL NOW FOR PRICING
(888) 501-1355
Mobile Crane Operator Training &
Certification for New Operators
(Click Here)
Truck Mounted Crane Training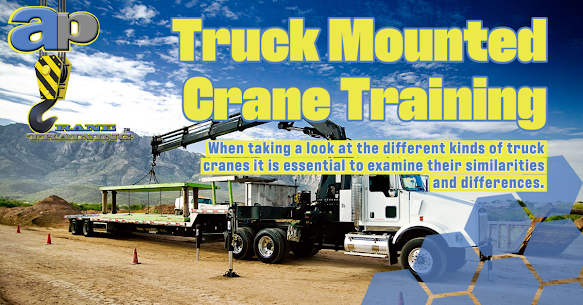 Truck-mounted crane training is important for the construction industry when it comes to operating truck cranes correctly throughout the united states. If you are looking for training in the US you are in luck, All-purpose crane training has provided solutions to all truck-mounted crane training and certification problems. They are well recognized Nationwide and locally. Find training locations.
Truck Mounted Cranes and Boom Trucks
Truck-mounted cranes and boom trucks look much alike, both cranes share related features and abilities. Despite, their special characteristics truck mounted cranes and boom trucks contribute small differences when it comes to abilities and advantages.
When taking a glance at the specific kind of truck-mounted cranes it is essential to examine their similarities and differences.
What are Truck Mounted Cranes?
Truck-mounted cranes or truck cranes are reliable for heavy equipment in construction. On the truck crane or behind the cab is a crane mounted on the bed of the truck. A truck-mounted crane can be used for transporting loads when the load is placed on the flatbed to make loads mobile. When the mounted crane is lifting a load the truck must be stationary. It is important the truck crane is on a stable foundation to prevent any accidents. Trucks cranes use mounts like outriggers to stabilize the crane when lifting and maneuvering a load safely. Truck-mounted cranes are convenient and make it possible to lift loads and make loads mobile.
What are Boom Trucks?
Practically alike truck-mounted cranes, boom trucks are mounted cranes with a flatbed. But, the crane is able to boom out from the truck itself. This improves the mounted cranes' capability by allowing the crane to lift loads from a distance and being able to maneuver over obstacles.
What features and capabilities do both crane trucks share?
Here are some of the features and capabilities for both crane trucks:
Both are considered small truck-mounted cranes. Both crane trucks hoist loads and make loads mobile on flatbeds whether a truck-mounted crane or boom truck.
Depending on the kind of truck cane chosen, both boom trucks and mounted cranes are managed separately from the drivers' cabin. Usually, smaller cranes, are operated from inside the truckers' cabin. Both crane trucks can be used for transporting loads when the load is placed on the flatbed to make loads mobile.
What makes a truck-mounted crane and boom truck different?
What makes the truck-mounted crane and boom truck different is that the boom has more flexibility and ability within the arm itself. Both crane trucks are strong and reliable heavy equipment for heavy loads but the boom truck can be more convenient for maneuvering over obstacles.
For more information on truck-mounted cranes and boom cranes visit All Purpose Crane Training online or call now at (888) 501-1355 for all your crane training and certification needs today.
Contact All Purpose Crane Training for all your mobile crane training and certification services.
All Purpose Aerial Lift Training
Get an aerial lift train the trainer course in your State. We not only provide train the trainer courses we also offer scissor lift training for different types of models of scissor lifts. Contact us today at (888) 501-1355.